Now more than ever, Mexico has become a haven for digital nomads, snowbirds, eager travelers and expats living abroad. Puerto Escondido in particular has experienced substantial growth in recent years as a surf mecca with beautiful beaches, a large conscious community, a plethora of restaurants and incredible architecture. Many of the new design spaces redefine hospitality with a precise balance of environmental and architectural elements, with bold use of concrete and local materials. Here are some of our favorites…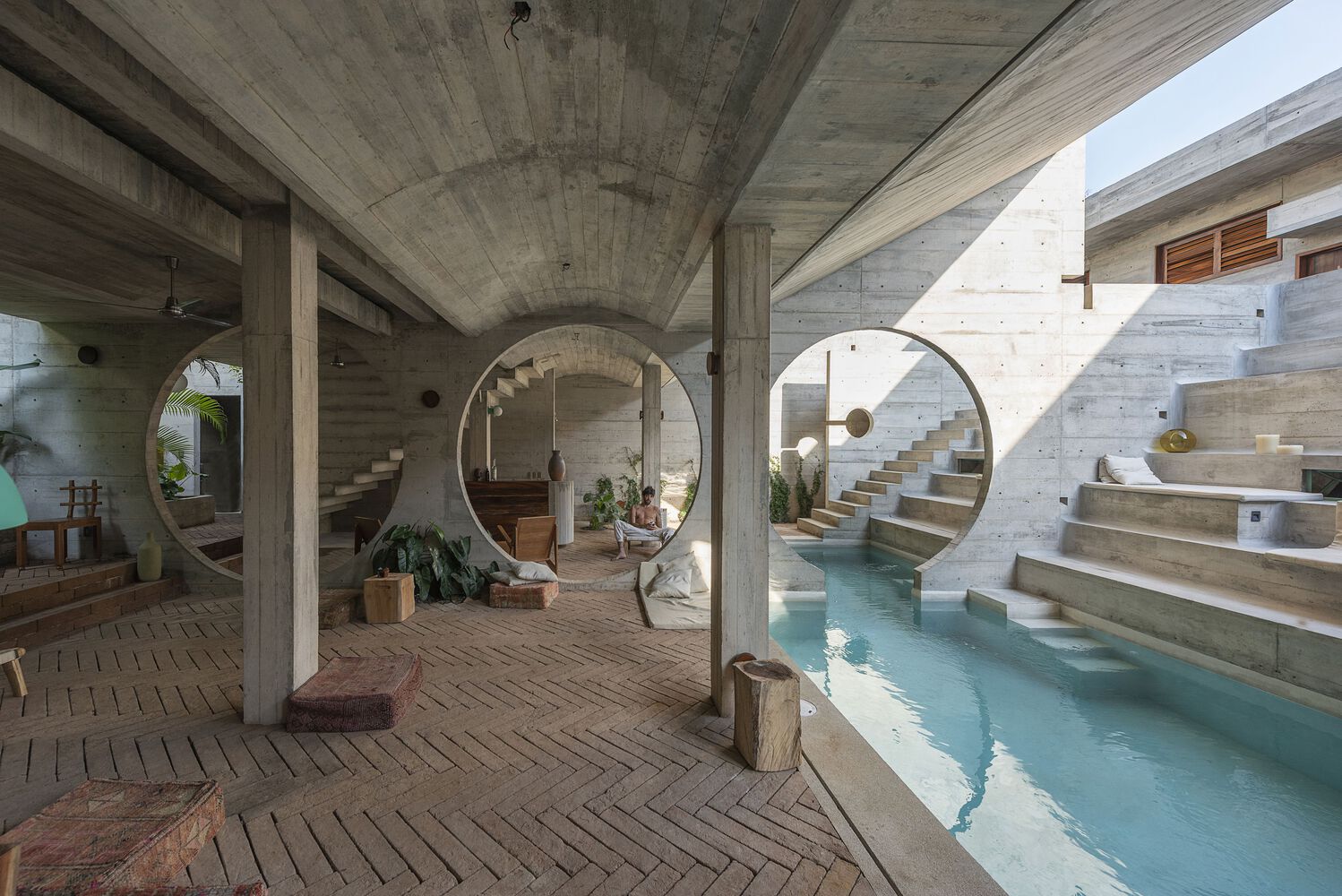 Casa TO
Ludwig Godefroy Architecture
Designed by Ludwig Godefroy Architecture, Casa TO arises from the idea of serene contemplation in a defined space, inspired by a Oaxacan temple. The boutique hotel has 9 rooms, six rooms on the ground floor have gardens, while those on the upper level offer a terrace and outdoor bath.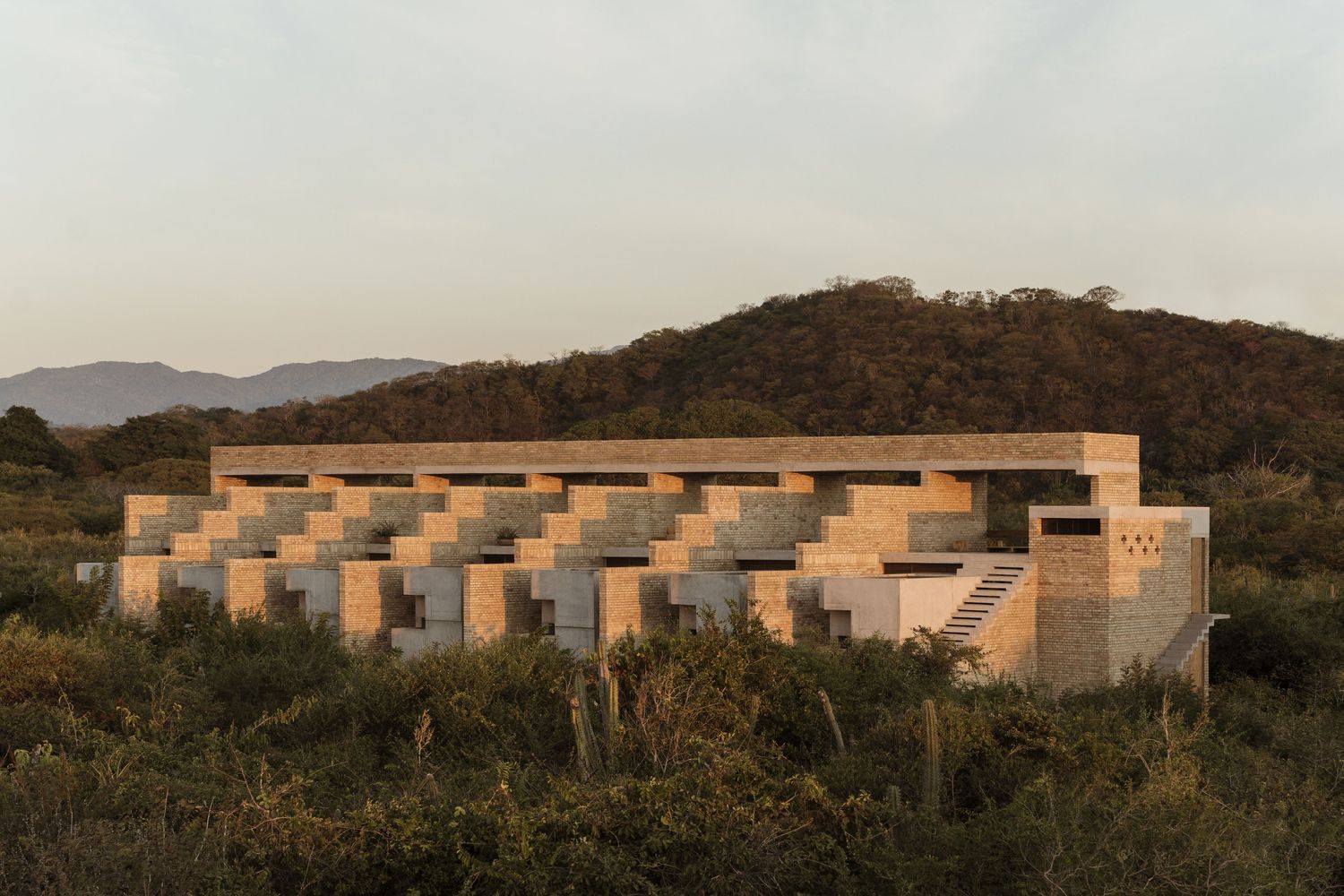 Hotel Terrestre
Designed by Mexico City-based Taller de Arquitectura X (TAX), Terreste was constructed with concrete and white mud bricks made by hand in Puebla, Mexico. The solar-powered hotel features 14 villas, each having its own garden, outdoor shower, rooftop and swimming pool to maximize views of the ocean and of the Sierra de Oaxaca mountain range.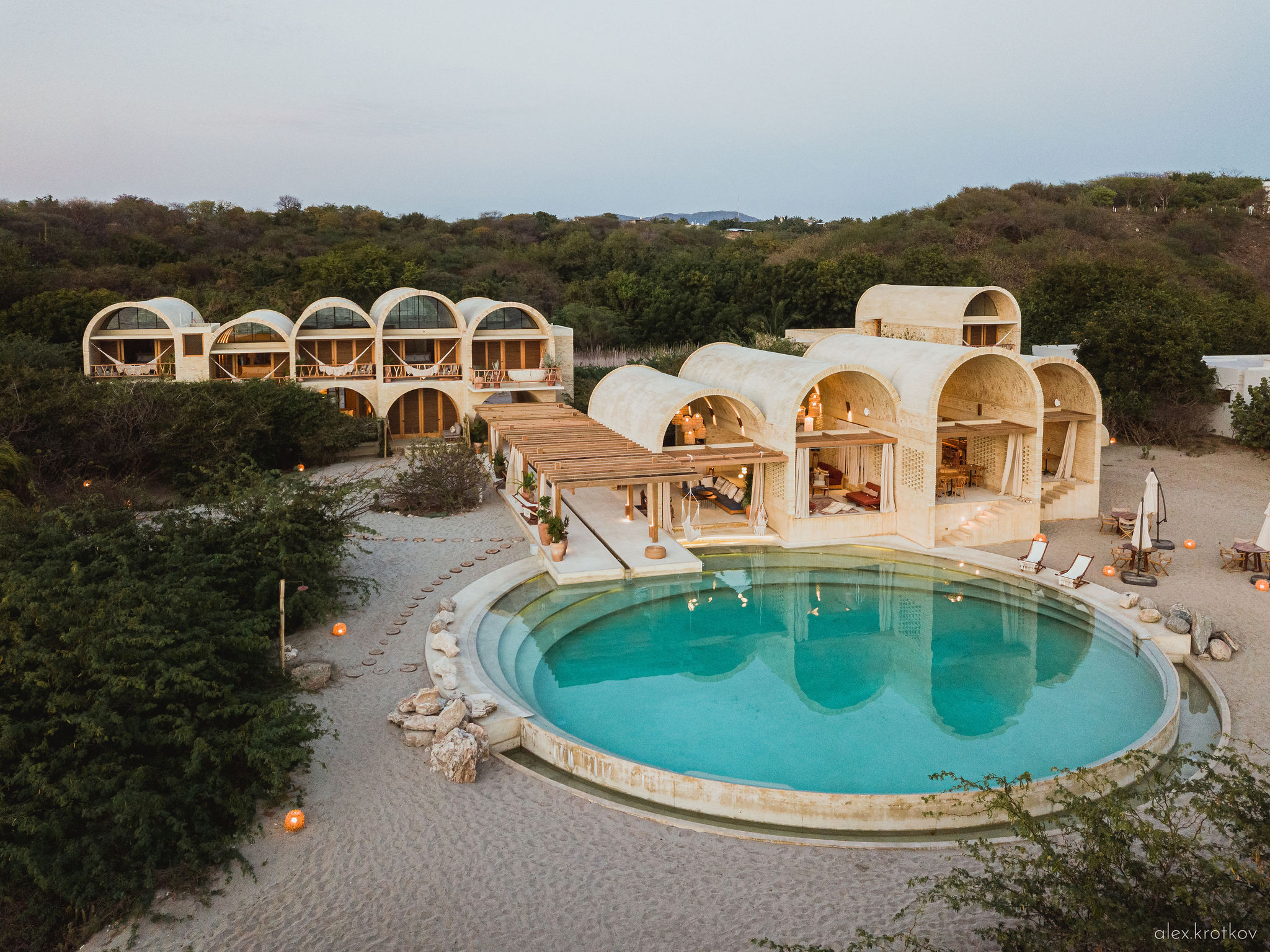 Casona Sforza
Alberto Kalach of TAX Architects
Designed by architect Alberto Kalach of TAX Architects, the series of vaulted, brick arches overlook a circular swimming pool, surrounded by white sand and lush vegetation. The Adult-only hotel offers a restaurant, bar, and 11 suites, half of which have their own private pools.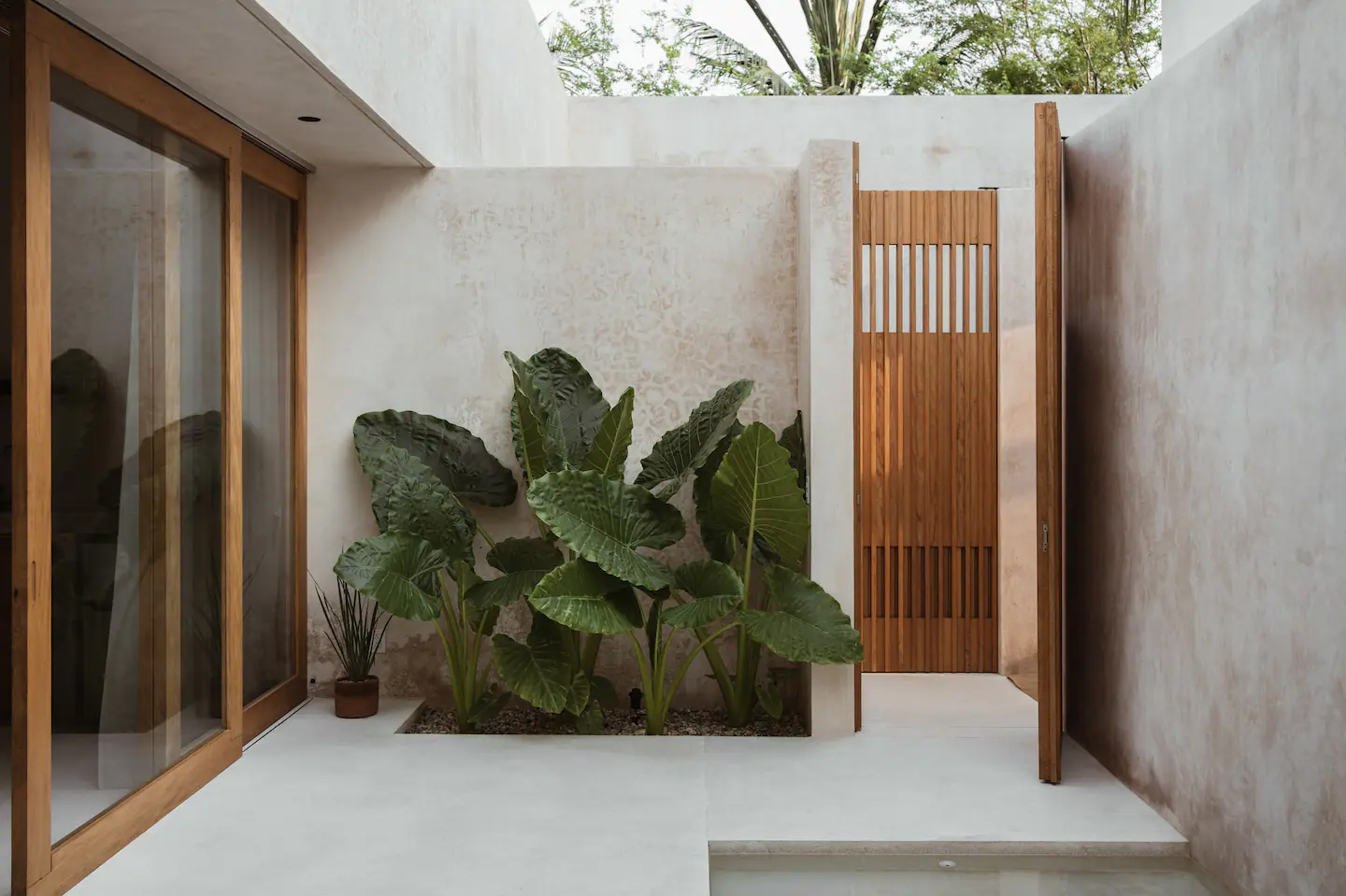 Villas Lunaya
A private minimalist sanctuary just steps from the main beach and bustling restaurants of La Punta, the concept was realized with the help of Perma Casco Arquitectura. Each of the 4 private villas is complete with aircon, king size beds and private saltwater plunge pools.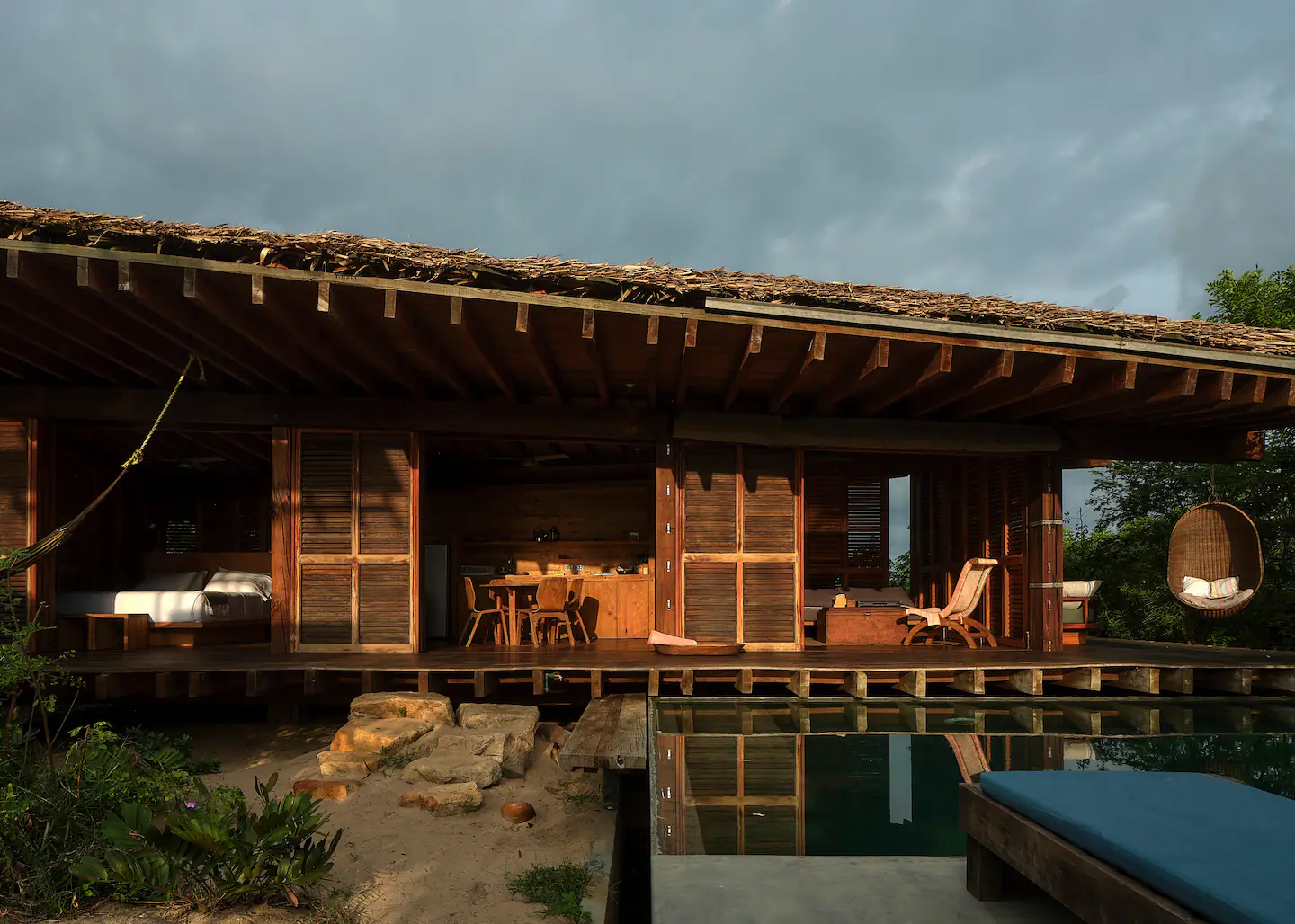 Punta Pajaros
Located near Puerto Escondido, Punta Pajaros is an ecological and regenerative development designed by the architect Alberto Kalach (TAX) consisting of 8 independent villas spread over ​​20,000 m2. Each villa features its own private pool, kitchen, and living and sleeping areas.  Since conception, they have successfully helped recover the once barren landscape by reincorporating more than 20 thousand plants of native species.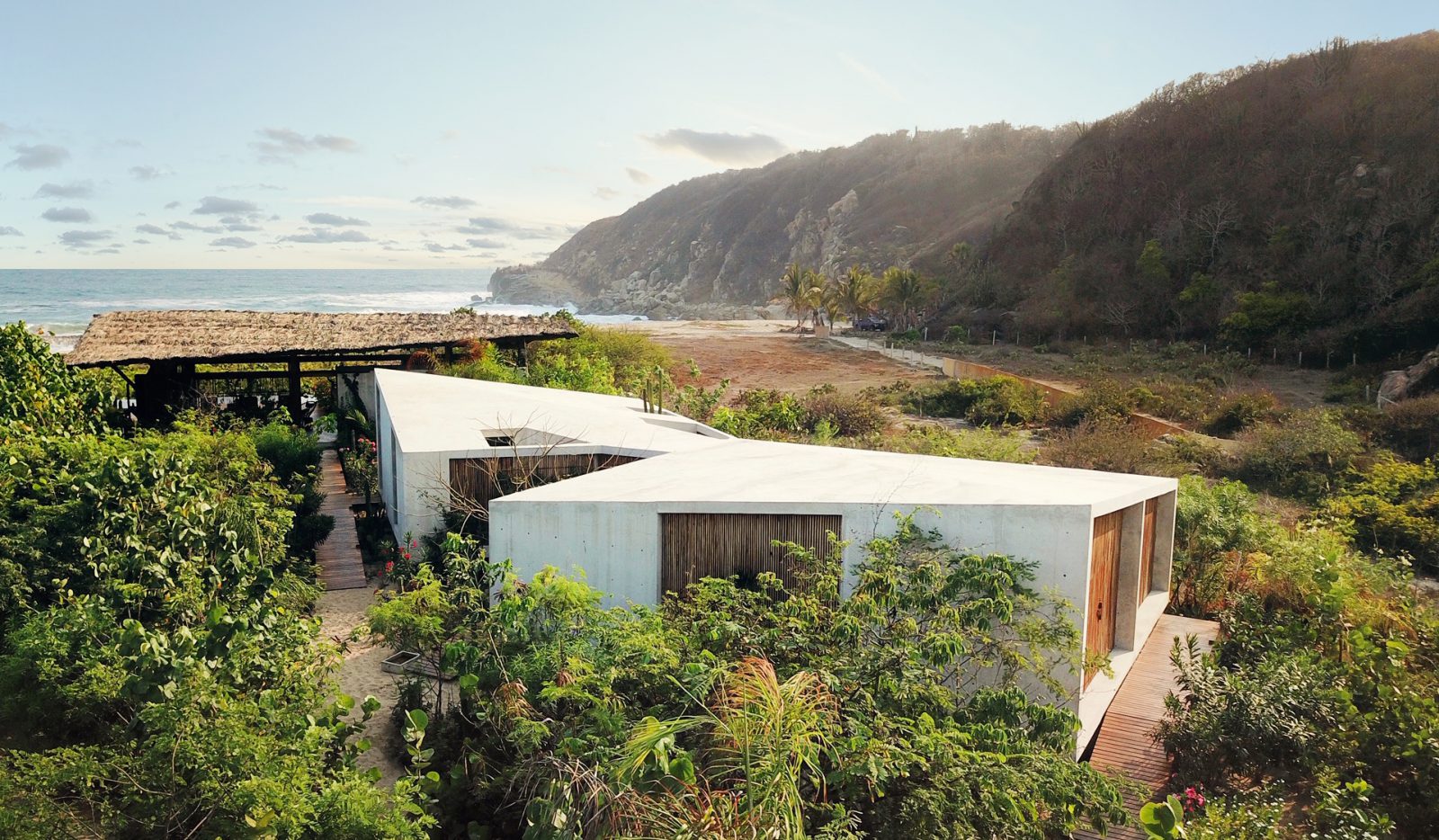 Casa Altanera
Located along a pristine stretch of the Pacific Ocean, Casa Altanera was designed by Venezuelan architect Alberto Calleja mixing Brutalism and traditional Mexican craftsmanship to create a uniquely modern residence consisting of 3 separate structures. Connected by wooden pathways, the spaces include a master bedroom, 4 independent bedrooms and a giant open-air palapa that houses the living room, dining area and fully-equipped kitchen that leads out to the pool deck overlooking the sea.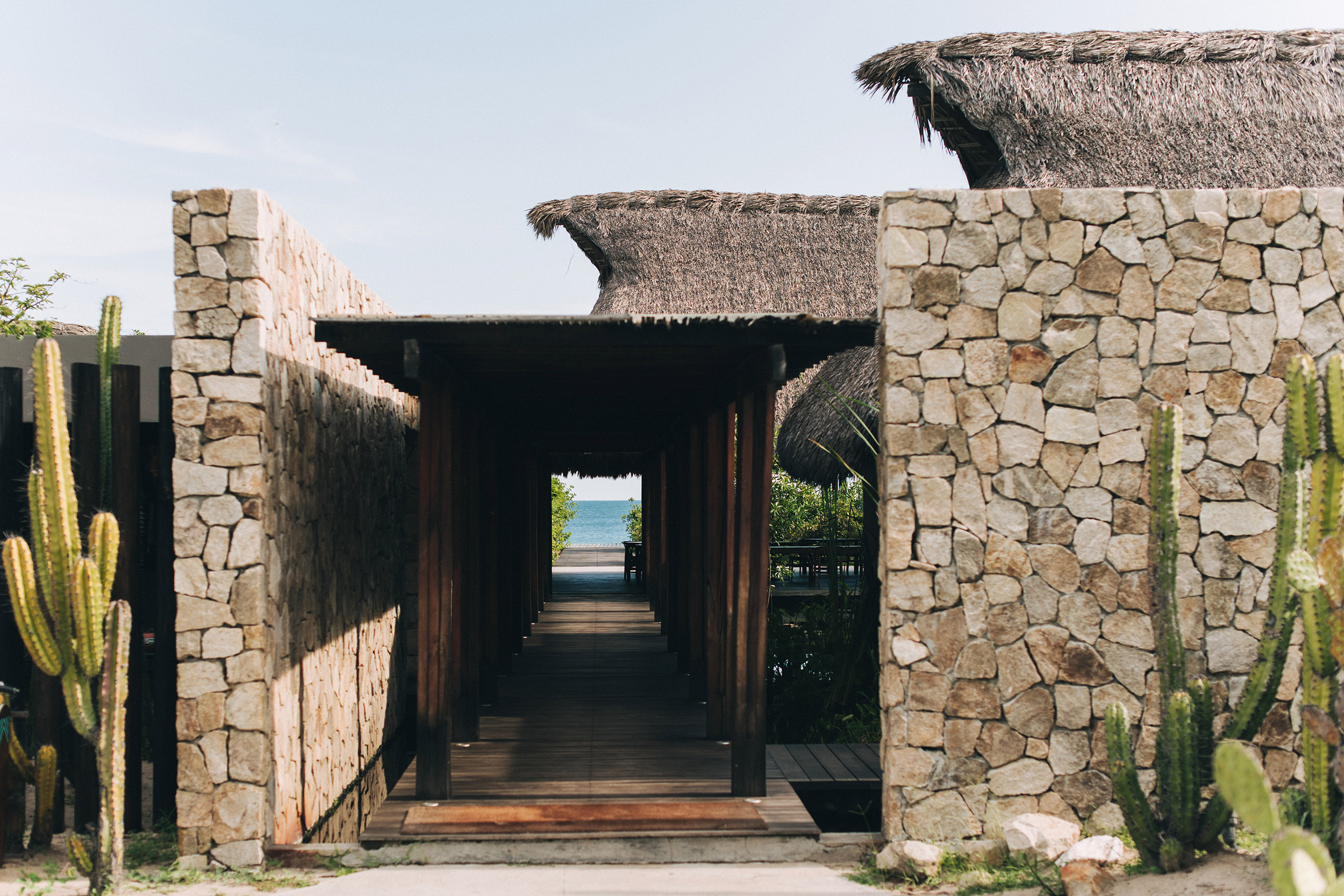 Hotel Escondido
A Oaxacan oceanfront village of 16 palapa bungalows and private plunge pools surrounded by the natural desert landscape. The laidback adult-only resort has a spa, restaurant and 50m pool for guests to enjoy.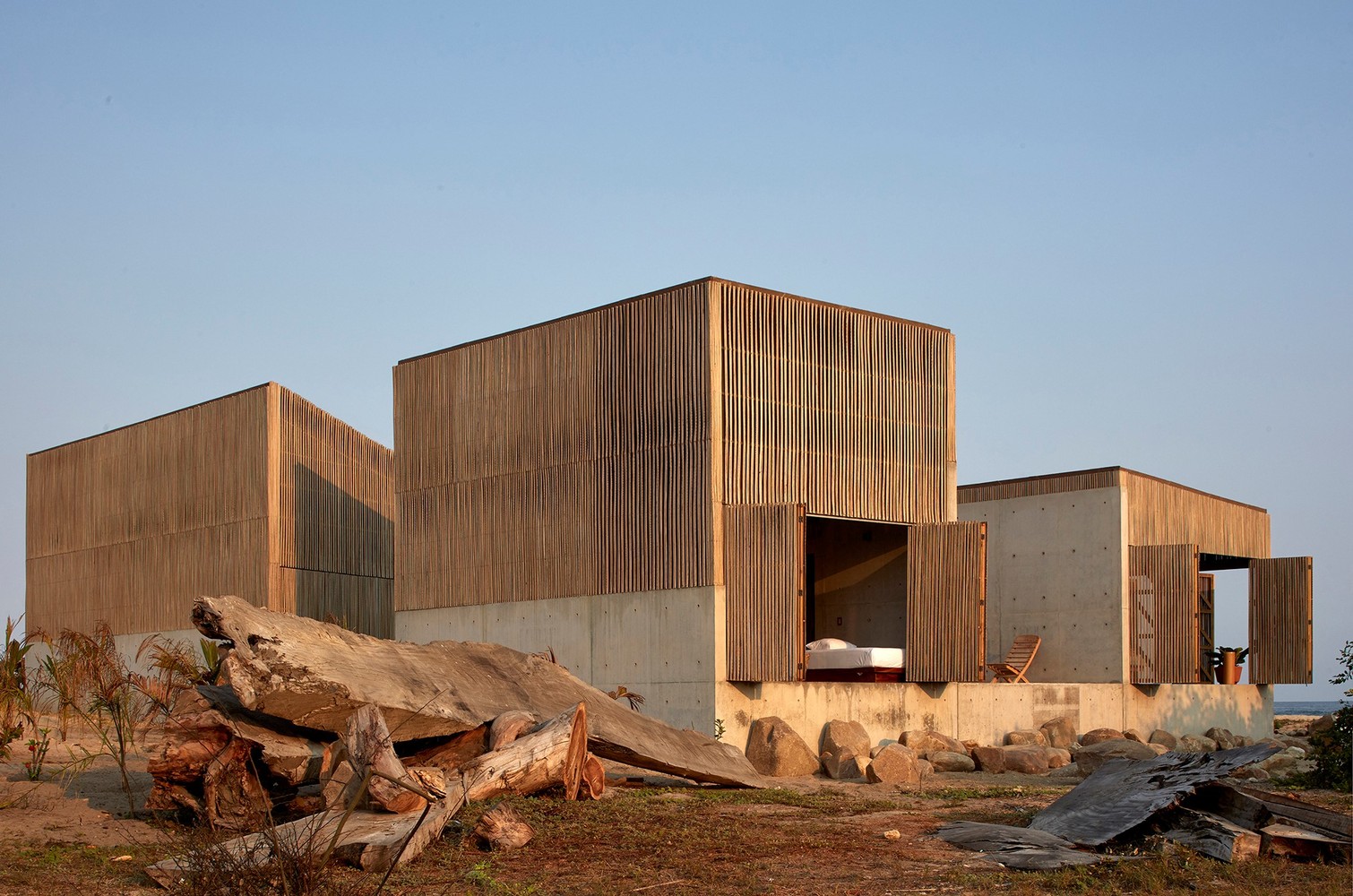 Casa Naila
Sitting on a rocky point, the cross-shaped courtyard has four seven-meter-high volumes, with a pitched roof and palm bone skin that allows for transparency, and  permeability allowing cross ventilation and views to the outside. The private areas are connected by the central courtyard and the pool, creating a simple aesthetic and low maintenance house, with the capacity to accommodate up to 15 people. Rental includes two local chefs.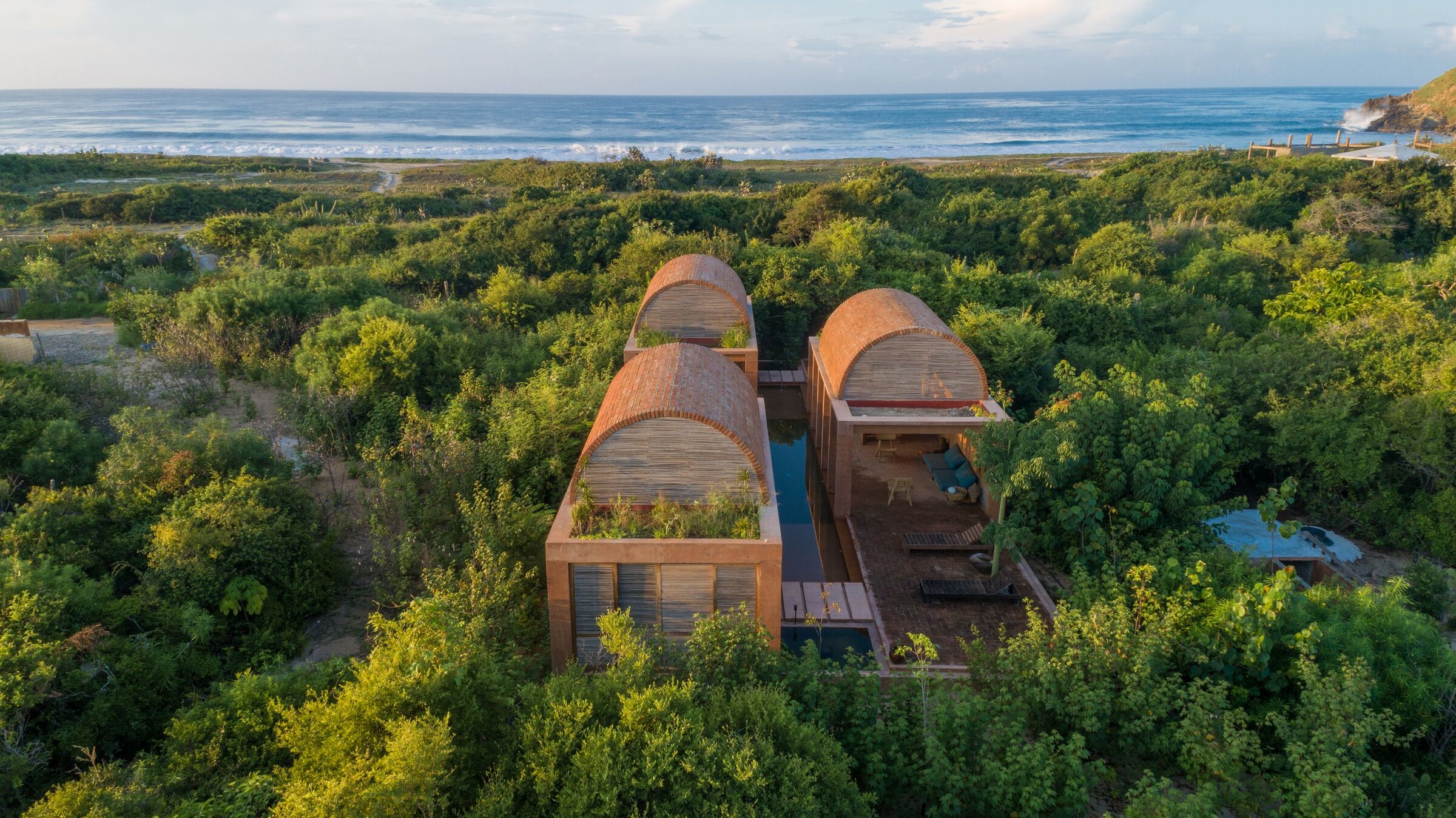 Casa Volta
The 3 brick vaults rising out of the dense vegetation are reminiscent of an abandoned temple. The materials of clay and reed lattice work together with the surrounding pond to keep the structure cool. Two of the vaults make up bedrooms while the third is the living area and kitchen.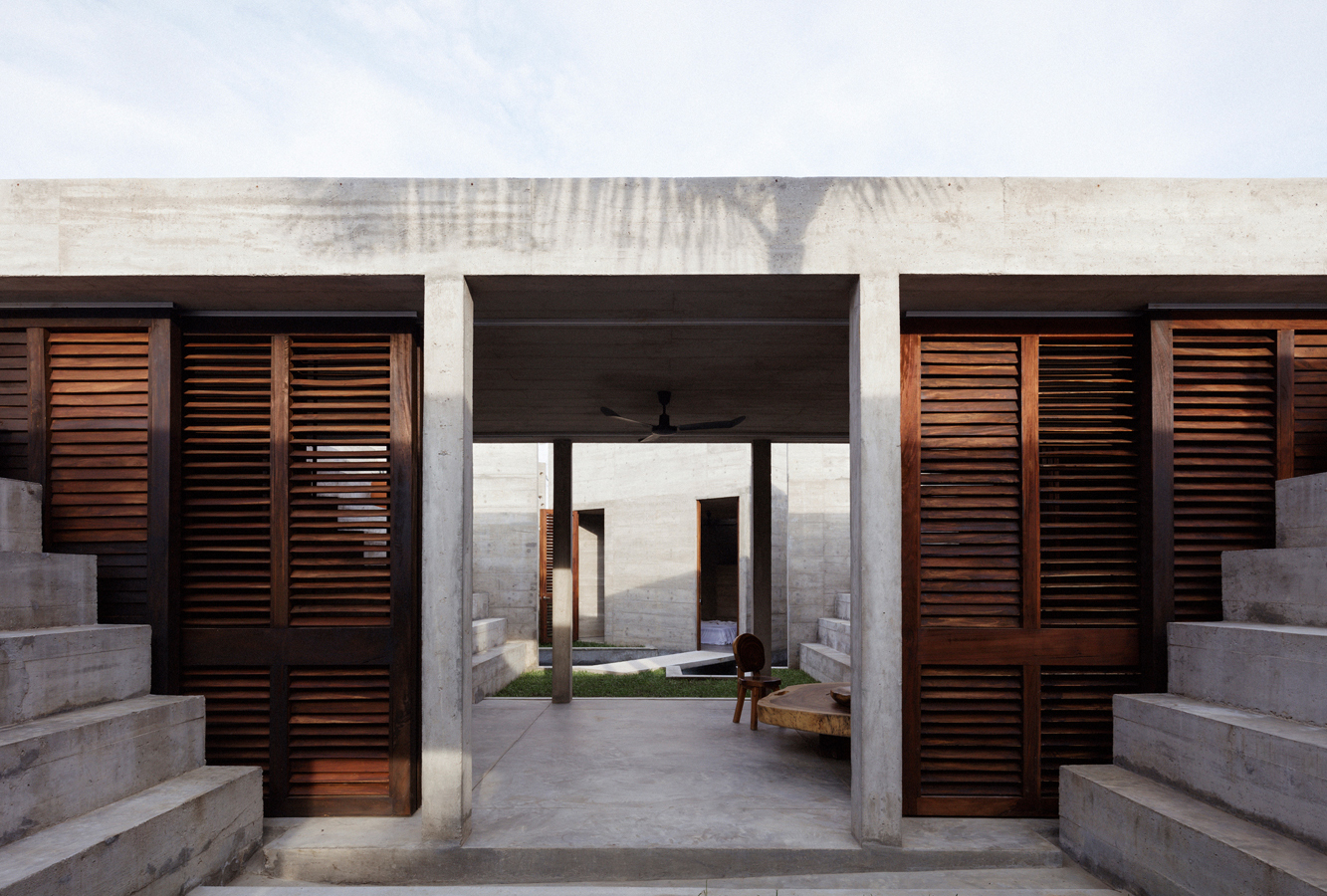 Casa Ollama
Located on top of a hill in front of Zicatela beach, a wall surrounds the terrain completely, turning it into an open-sky fortress. The three bedroom private home has a pool in the center courtyard,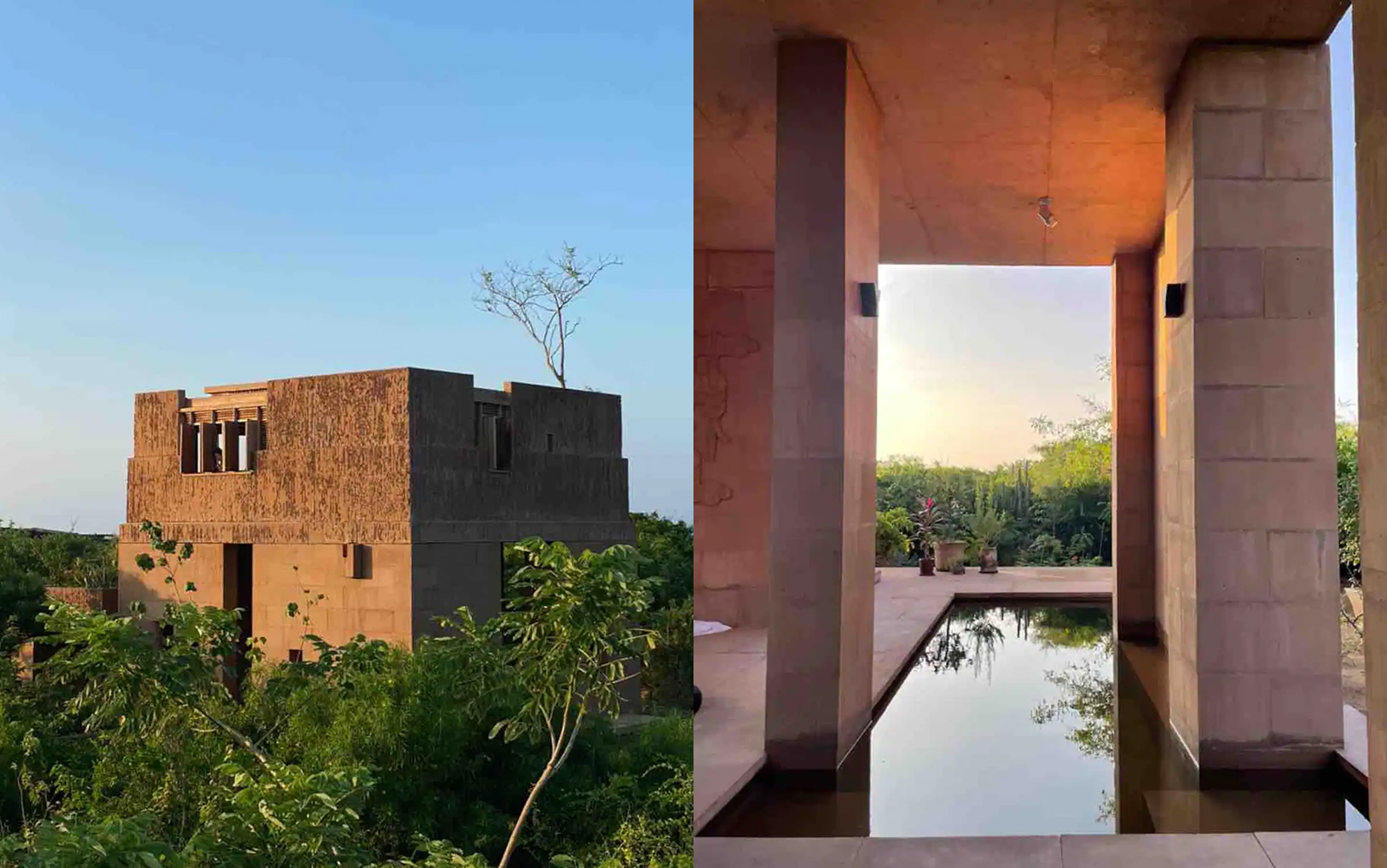 Casa Monte
Carlos Matos / TEZONTLE art collective
Located in a quiet bay north of Puerto Escondido, the silhouette of Casa Monte resembles a temple rising out fo the jungle. Designed by Fernando Farhán, the minimalist home features a pool in the center, as well as a kitchen, spacious bedroom, and deck. Each space is thoughtfully curated to allow for a restful and inspired stay.